Grow Irrigation, Inc.
Supplying You the World's Besst Irrigation Products
Container Irrigation Basics
If you're new to irrigating containers, or you're ready to upgrade your system, this article is a good place to start. A nursery irrigation system is an investment that can pay off for years by giving you the best quality plants while sheltering you from the uncertainties of mother nature. Careful planning from the start will make your system effective and trouble-free in the long run.
Tree farms and other outdoor nurseries which grow in containers generally either rely on overhead sprinklers or spray stakes for irrigation. The best choice depends on your container sizes and spacing, climate and your water cost.
Overhead sprinklers are most effective when plant canopy is small relative to container size, so containers to fit close together. More often than not, smaller containers (5 gallons or less) are irrigated with overhead. Overhead sprinkler systems are simple, reliable and easy to maintain. Sprinklers are installed on 3 to 8 foot PVC risers, and are spaced close enough to provide uniform water application.
When there are large spaces between containers, overhead irrigation is inefficient because water that goes between containers doesn't reach the plants. In some nursery layouts, more water can fall between containers than into them. This is where spray stakes improve irrigation efficiency. Spray stakes are placed directly in the container and fed by 1/8" poly tubing. They wet the entire soil surface within the container without overspray between containers. Spray stakes (sometimes referred to as "nursery drip") are usually used in larger containers, ranging from 5 gallons to 48" boxes or even larger. However, the decision between overhead and spray stakes also depends on the type of plant, climate and cost of water.
Grow Irrigation provides the best quality products for both forms of container irrigation: overhead sprinkler and spray stake. The Senninger Wobbler Xcel line of overhead sprinklers delivers an exceptionally uniform and wind-resistant pattern and can operate trouble-free for years. The Primerus Spot-Spitter spray stake (formerly the Roberts Spot-Spitter) provides a uniform and precise spray pattern and is virtually indestructible. In addition to these two industry-leading product lines, Grow Irrigation also the accessories needed to make them work: tubing, fittings, pressure regulators, valves and filters. Everything you need to get started, along with expert advice. Feel free to contact us for more information at info@growirrigation.com or (442)279-3152.
High Quality Products
Grow Irrigation brings you high quality branded products to irrigate your nursery stock efficiently and reliably. Your plants are a big investment, and they should be taken care of by the best irrigation technology.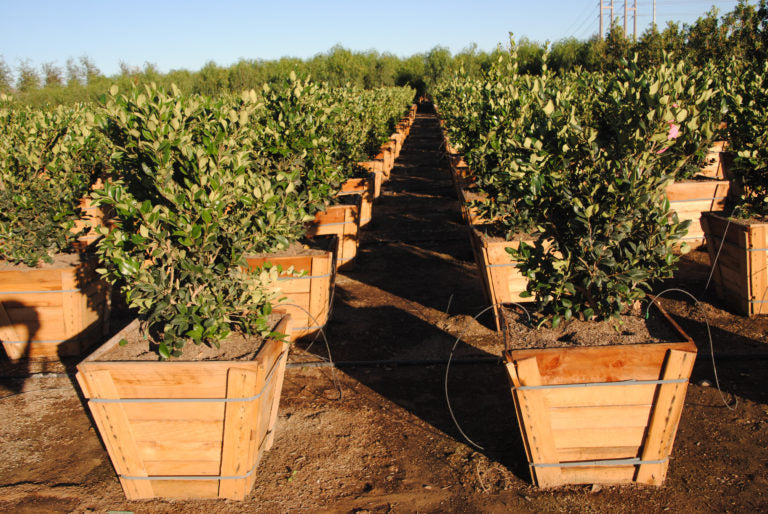 Efficient Service
Nearly all of our orders ship same day, without backorders, from our warehouse in Southern California. Starting this November we will ship orders to our East Coast customers from a new warehouse location in Jacksonville, Florida.